Compact and user friendly palletizing robot
The palletizing robot EGApicker, for tobacco manufacturer Mac Baren, is developed with a single pallet space. The EGApicker takes up minimum space, so it can easily be installed in the production line.
The challenge
The challenge of the old picker was that it took up too much space. The requirement was a solution that was compact and space saving.
The solution was a basic standard EGApicker palletizing robot with a single pallet space. EGApicker quickly and efficiently lifts boxes onto the pallet with a load height of 2200mm. The EGApicker is very compact and requires minimal maintenance. The palletizing robot is controlled by a user friendly control panel where the pallet patterns can easily be defined and managed. The machine was delivered in special colors according to the customer´s wishes.
"We were looking for a palletizing solution that was compact and easy to use. Also, we wanted to be able to easily make new palletizing configurations and patterns. The EGApicker is newly installed and has not yet been tested on all our products, but we are confident that we will meet our success criteria with this solution.
Our choice of solution is also supported by the positive relation that we have built with Egatec during the recent years, where we have worked together on several successful packaging- and palletizing solutions."
Thorbjørn Nielsen, teknisk chef – Mac Baren Tobacco Company A/S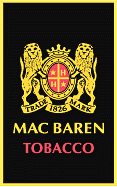 About Mac Baren Tobacco Company A/S
Mac Baren is one of the world's leading pipe tobacco companies. Mac Baren exports its own brands to more than 70 markets worldwide and the factory in Svendborg, Denmark also produces pipe tobacco for some of the world's largest pipe tobacco companies.
Are you facing a manufacturing challenge?
Let us help you automate your company.
(+45) 63 15 20 60
Hvidkærvej 3, 5250 Odense SV
(+45) 63 15 20 60
kontakt@egatec.dk
CVR: DK27348440
EGATEC A/S is represented world wide through a strong network of Agents.
Please contact us at (+45) 63 15 20 60, for more information.