Automatic palletizing of steel profiles
The EGApicker – a portal robot – is palletizing telescope profiles into pallet collars at the steel company Ib Andresen Industri.
The challenge
Managing profiles manually is a physically demanding and heavy task, characterized by one-sided and repetitive work. Ib Andresen Industri wanted a more automated process, a better working environment for its employees and increased capacity.
Therefore, Egatec has developed a modular palletizing robot EGApicker that can handle all the hard work and heavy lifting. This results in a better and safer working environment, but the investment also reduces production costs (labor costs) and thus increases competitiveness.
EGApicker is built after a portal robot that is extremely useful for palletizing in boxes. Its natural vertical z-axis can easily to get to the bottom and place the profiles correctly. To avoid marks on the profiles, they are lifted with a vacuum plate. The vacuum plate works so that only where there is contact, vacuum (air) is used. Other areas of the plate are automatically closed.
EGApicker receives the steel profiles via a conveyor belt directly from the cutting unit. Next, a layer of profiles is formed, which is lifted with a vacuum plate gripper and down into pallet collars. After a layer is formed, a separating piece and interlayer cardboard sheet from the integrated magazines are placed in the cell.
The separating piece is taken with a gripper, while the interlayer is handled with the vacuum plate. Meanwhile, the new layer is formed, so it is ready for palletizing.
The conveyor lane on which the pallet collars are located, is provided with an automatic shoulder which ensures that the pallet collars are aligned equally. Subsequently, there is a buffer lane for filled pallets.
EGApicker is designed so that the customer, on their own, can program packaging patterns and profile types.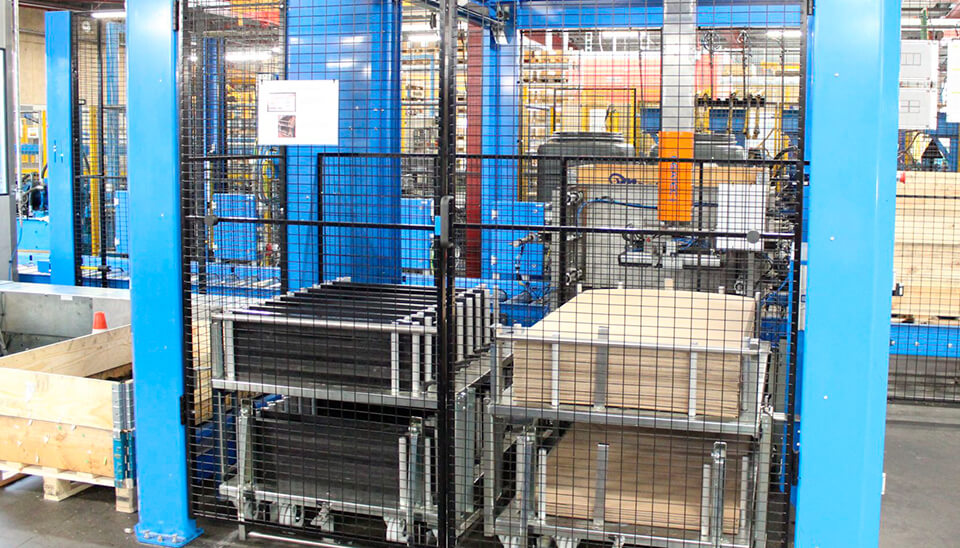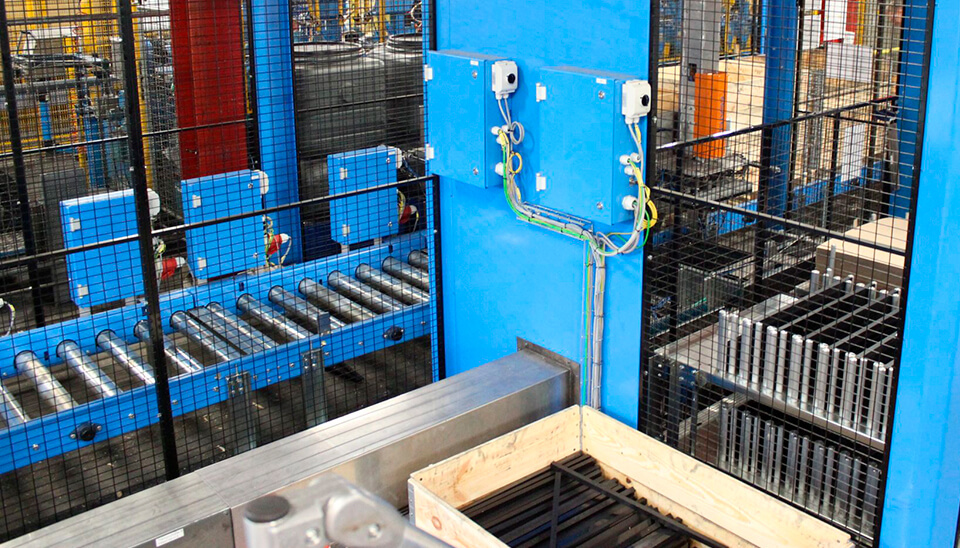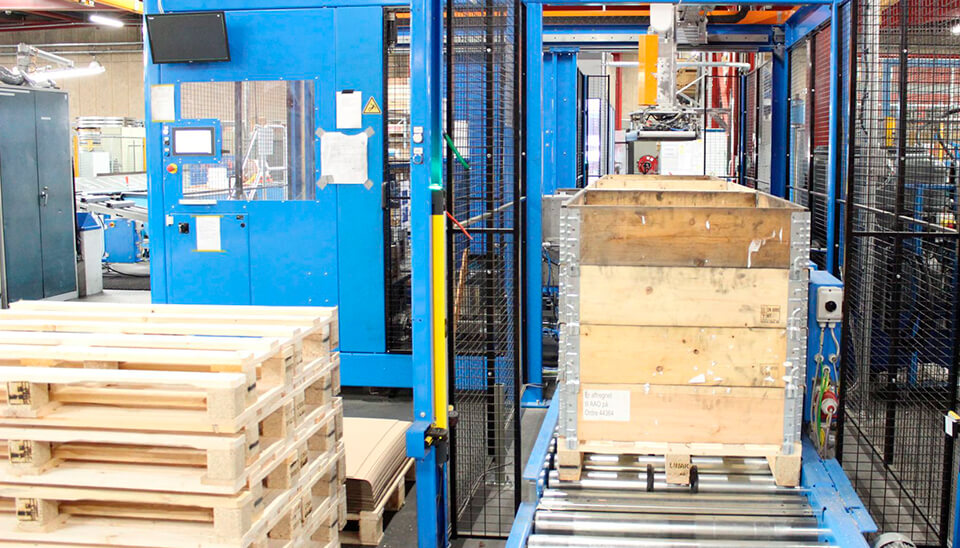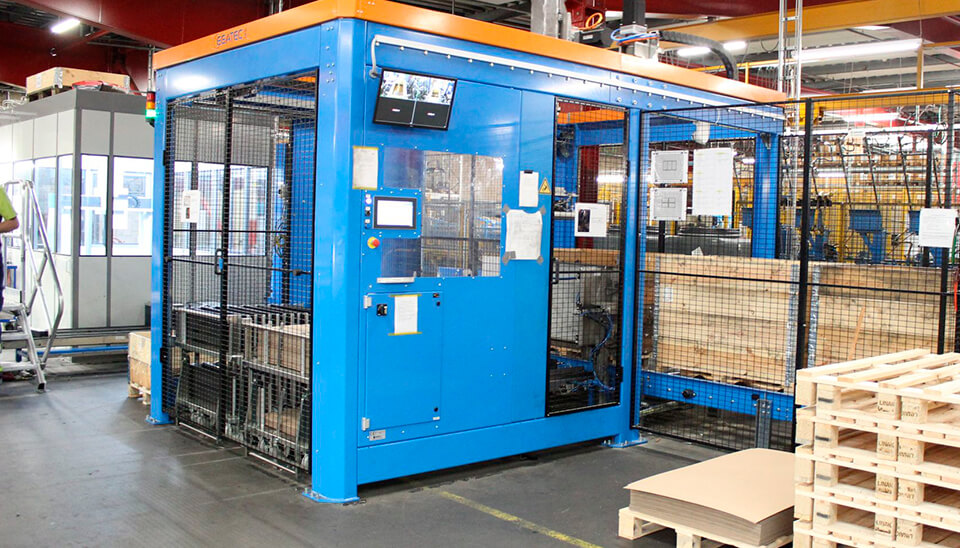 "The handling solution from Egatec has resulted in general improvement of the working environment on the production line. Pallets and profiles are now no longer handled by the operator. This also means that time can be spent on monitoring and continuous process optimization on the production line. For the production staff, we subsequently succeeded in both raising line output and reducing operator resources at the machine. All in all a success.
Through a creative approach to the task, Egatec has succeeded in "modifying" one of their standard products to solve a special task. It is no secret that early in the process we also had a conventional robot cell in mind (containing an actual industrial robot). However, we were convinced that a modified "EGApicker" would be the right solution for the task. A decision that later proved to be the right one." Lars Hoffmann Pedersen, Projektchef – Ib Andresen Industri A/S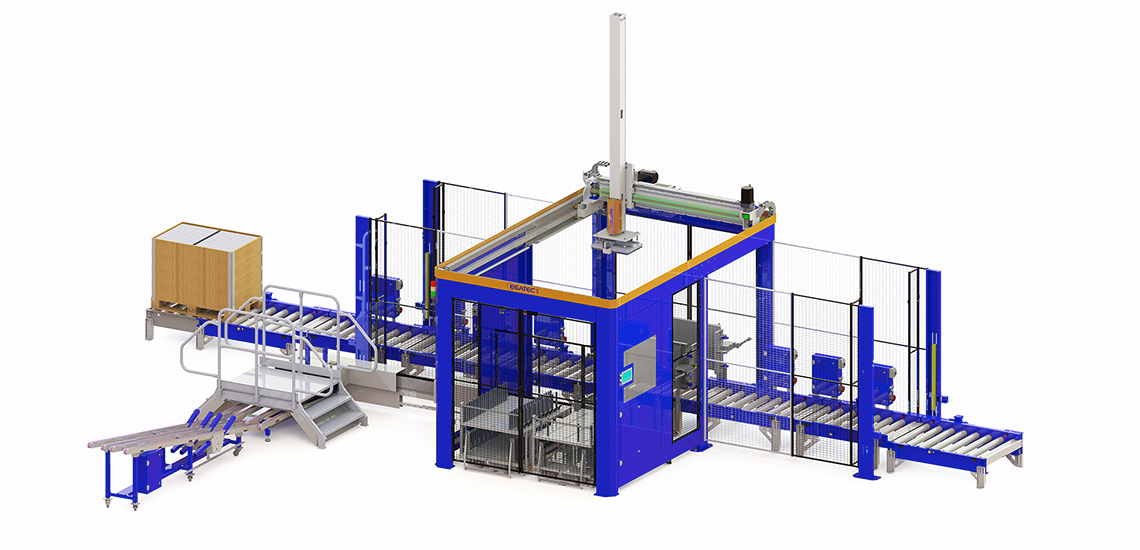 About Ib Andresen Industri A/S
Ib Andresen Industri delivers full-service steel solutions customised to the industry.
Are you facing a manufacturing challenge?
Let us help you automate your company.
(+45) 63 15 20 60
Hvidkærvej 3, 5250 Odense SV
(+45) 63 15 20 60
kontakt@egatec.dk
CVR: DK27348440
EGATEC A/S is represented world wide through a strong network of Agents.
Please contact us at (+45) 63 15 20 60, for more information.